We are a pioneer in cutting blades
Tsukatani has been developing its own unique technologies and providing high quality products in the ever-growing fields of "cutting" and "punching." Under the corporate vision of "All technologies are to the benefit of customers," Tsukatani has those technologies incorporated into our products more promptly by reliable engineers and strives to develop ideal, never-before-seen cutting blades that create a more comfortable manufacturing environment for all customers.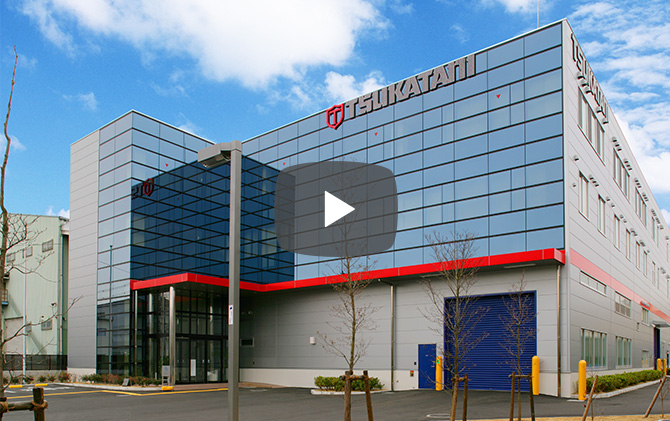 Tsukatani Hamono Mfg. is one of only a few dozen manufacturers of cutting edges (industrial specialty blades) around the world
What comes to mind from the word "cutting tool" are swords, scissors, razors, kitchen knives, etc. A world of these traditional cutting tools has taken root in Japan, while companies like Tsukatani contribute to society by showing originality in the field of cutting edges that are essential for industries.
Tsukatani is the top manufacturer of industrial specialty cutting tools including business form cutting tools, steel cutting rules and flexible pinnacle dies. Tsukatani plays an active role as a technology leader who brings more convenience and comfort to society and people's lives by cutting and stamping out materials for making paper boxes, etc. Through research, development, manufacturing and marketing of three kinds of cutting edges, Tsukatani is expanding the range of possibilities of cutting and stamping technologies.
With reliable products and field-proven performance, Tsukatani has won the trust of many industrial customers. The market share of business form cutting tools used for perforating or punching holes in forms printed from computers has reached 90%, and the tools are adopted as the standard (for domestically-made computers) of the Ministry of Economy, Trade, and Industry. Steel cutting rules used for stamping out cardboards and paper packages has a 60% share of the market. Flexible pinnacle dies that were developed by our unique sharpening technologies and have brought about a sensation in the seal and label industry since the start of production in 1995 have obtained an 80% share of the market (estimated by Tsukatani) and are expected to achieve more.
Domestic market share of three main products [estimated by Tsukatani Hamono Mfg.]

Sales
Unique advanced technologies and expertise accumulated through tradition
We have few opportunities to see industrial specialty blades in daily life. But, Tsukatani's technologies are used in every corner of our lives such as processing of slip forms, containers and information system components.
By taking advantage of unrivalled prowess in research, development and manufacturing, Tsukatani has been improving its technological level while achieving excellent cost-performance. Tsukatani has increased market share and grown into an industry-leading technological company. Consequently, Tsukatani has successfully earned recurring profit (net profit) and achieved high profitability in pursuit of down-to-earth, high-quality management even under the recent harsh business environment.
Tsukatani carries out research from the material level in pursuit of high quality, high accuracy, and high added-value products and develops unique machinery and systems for production. From these efforts, new flexible pinnacle dies have been brought to market and rapidly grown into a third business domain.
Furthermore, Tsukatani has technical tie-up agreements with overseas manufacturers and is actively exchanging information and expanding networks. Tsukatani does business globally and exports products to 28 countries in Asia, America, Europe and Oceania. Tsukatani also focuses efforts on expanding facilities such as by introducing a push-pull manufacturing system and relocating the Head Office and plants alongside our business expansion.