Peripheral equipment
Magnetic cylinder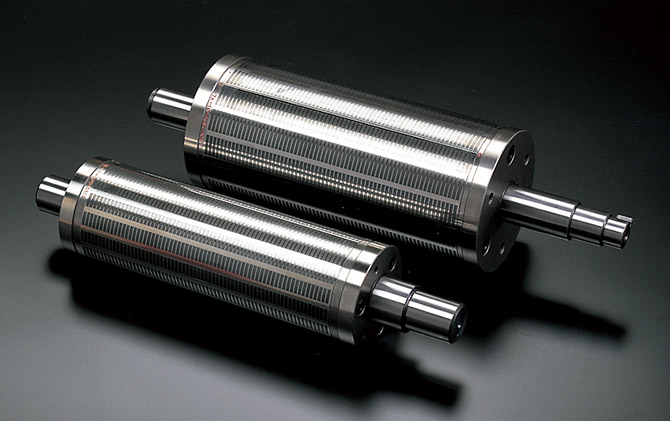 - A strong 2200 Gauss magnet positively secures the Pinnacle Die.
- Scratch-resistant journal by quench hardening
- Bearer replaceable structure cylinder
- Pre-processed gears (50 to 154) are available for label printers.
- Max. cylinder size: 1,500mm(L) x 250mm (Dia.); surface length: 950mm; Max. load: 200kgs
- Feel free to contact us for your special requirement specs.
Magnetic plate & aluminum plate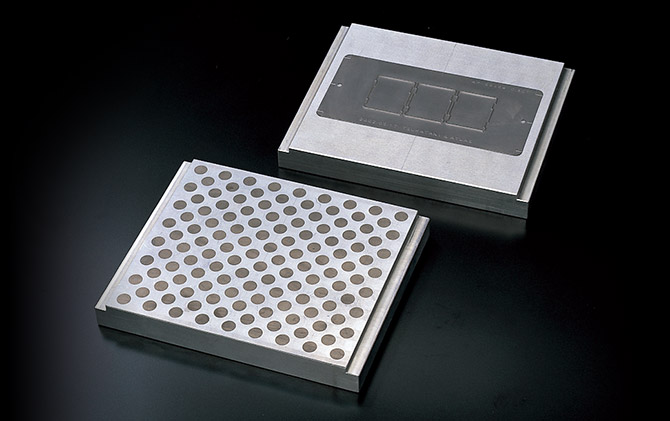 - Magnetic plate and aluminum plate are made from hard aluminum, which render themselves resistant to impact. For flat die cutting, the magnetic plate is recommended to ensure easy setting.
- Parallel ground magnetic late assured the cutting ability of the Pinnacle Die whose edge height is finished to an accuracy of ±0.003mm (±0.005mm).
- Thickness of 7mm to 24mm are supported. [Max. size: 250mm X 250mm for 8mm and 350 mm X 350mm for 24mm]
- We are ready to design and manufacture various specifications such as label print, press and other machines.
Unit for magnetic cylinder (RDC RB type)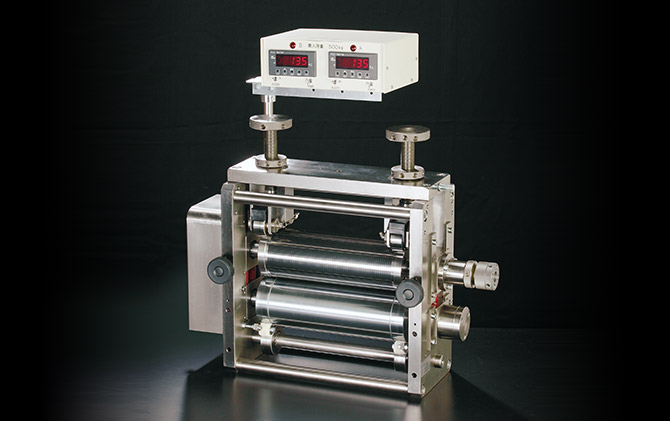 - It is recommended to use Tsukatani magnetic cylinder to enable the Pinnacle Die to exhibit its superb cutting quality to the maximum.
- All Tsukatani units are designed to fix corner metals to achieve the stable punching,
- The anvil roll (reception barrel) is hardened and hard chrome plated to minimize scratches on the surface.
- Various specifications can be designed and manufactured.
- 500-kg and 1500-kg digital display load cells are able to be installed.
Load cell (load meter of 500 kg/1500 kg)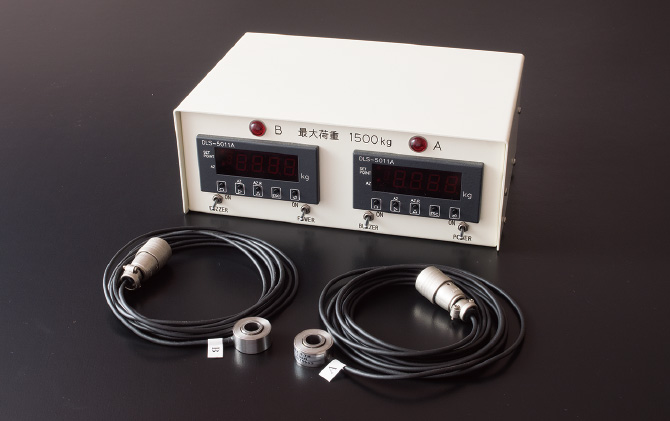 - Converts the amount of force being applied to the sensor into an electrical signal and indicates the amount in digital form.
- Useful guide for adjusting pressure balance on the operation side and the gear side when setting cutting tools.
- Two types of load meters (500 kg, 1500 kg) are available.
Simple punch unit (RDC-FB type)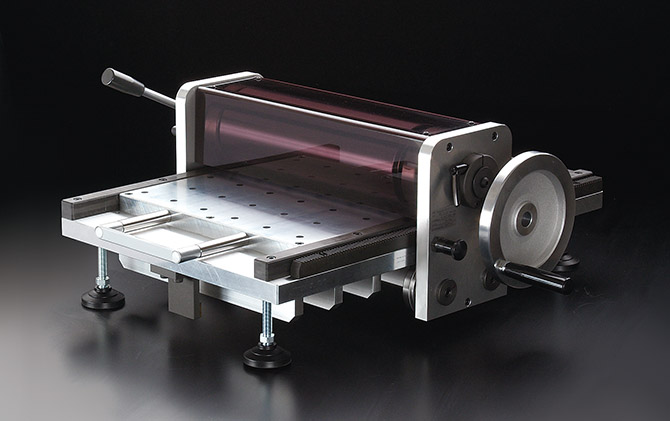 - Test-punching is easily performed on a table.
- Height is easily adjusted.
- Both Pinnacle Die and conventional cutting die can be used (A3 type only)
- Effective range to punch paper (machine proper size: mm)
A3 type (710 X 725 X 250 75kgs)
A4 type (470 X 420 X 190 20kgs)
A5 type (380 X 355 X 190 14kgs)
A6 type (320 X 310 X 190 9kgs)
Combination of Pinnacle Die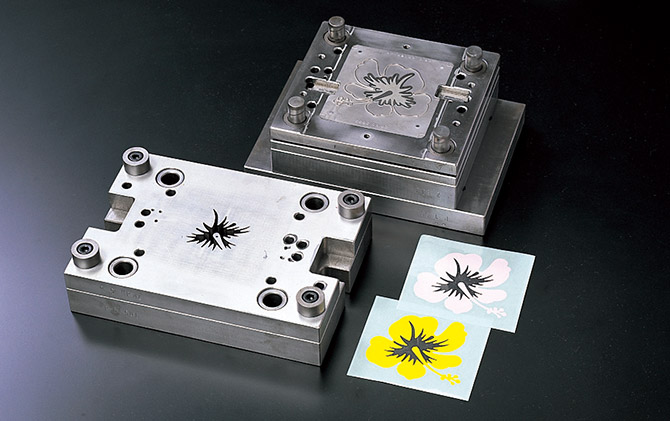 Base through-hole and positioning pin or spring pin
Use base through-holes and positioning pins to set a Pinnacle Die and a plate in parallel, and use the base through-holes and spring pins to keep accurate position during the secondary press.
Wire processing Pinnacle Die and metallic mold
Unite a wire-processed Pinnacle Die with a metallic mold. Half-cut by Pinnacle Die and full-cut by male/female metallic mold solve cutting scrap problem.
Specifications may be changed without prior notice.
Download brochure
PDF : 3.4MB
PDF : 197KB